Youth And Go Ride Coaching:
---
Coaching
We provide multiple levels of coaching covering Track, Road and Mountain Biking.
Coaching on today:
Sorry there is no coaching on today
---
Important Information about Coaching Sessions:
All riders must be signed on and ready to ride before the "M" check is completed by the coaching team. All riders must pass the "M" check and clothing check to be able to ride.
If riders turn up late they may be sent home if a coach is not available to observe the rider performing a full "M" check and clothing check to ensure riders safety.
Riders are required to have flat pedals during MTB skills sessions to allow easy dismounting from the bike.
The sessions are there to help riders become safer and more skilled riders. In order for us (as a coaching team) to do this, we ask that riders who attend the session are well behaved and listen to all instruction by the coaches. This is for safety of riders as well as enjoyment of riders. Any rider who is deemed to be distrupting the session or causing a potential safety risk may be asked to leave the session.
---
The Lyme Racing Club is proud of the fact that we have a large number of Youth members with ages ranging from 3 to 16 years of age.
Our qualified coaches can help to provide both training and racing opportunities for our young people in various cycling disciplines. The drive and desire to help to develop young people in our sport is strong within our constantly growing membership.
In order to take full advantage of the opportunities to help to develop and to have the necessary recognition as an area of cycling excellence we are currently a British Cycling nationally Go-Ride club. We recommend riders for RSR'S, NSR'S and take a full part in the coaching of these. We also run GO-RACE events, these are a way for junior members to take part and experience cycle racing.
What is GO-RIDE?
"Go-Ride is British Cycling's development programme for young people. The programme provides a fun and safe way to introduce young riders to the world of cycle sport and provides a platform to improve bike handling skills."
For more information please visit the British Cycling Go-Ride
All Youth and Junior riders have to race on restricted gearing, Information for Parents on Gears can be viewed on British Cyclings guide.
Age Group Information for British Cycling is based on the year you are born. The age of the rider as of the 1st Jan is the age that is used to work out the age category. For example, if a child was 9 on January 1st and turned 10 later that year, they would remain an under 10 through out the year.
During the year we have a variety of sessions that take place. They focus on different levels of ability and different aspects of cycling. During the winter we run training sessions that focus on roller and turbo training along with other sessions. From spring through to early autumn we run fun go-ride sessions that teach basic bike handling and key skills that will be needed for racing.
Have a chat with one of the coaches for more information
At regular intervals young members' activities take place across venues in Newcastle-under-Lyme and surrounding areas. These may be Go-Ride coaching and or a ride out, but will allways be fun.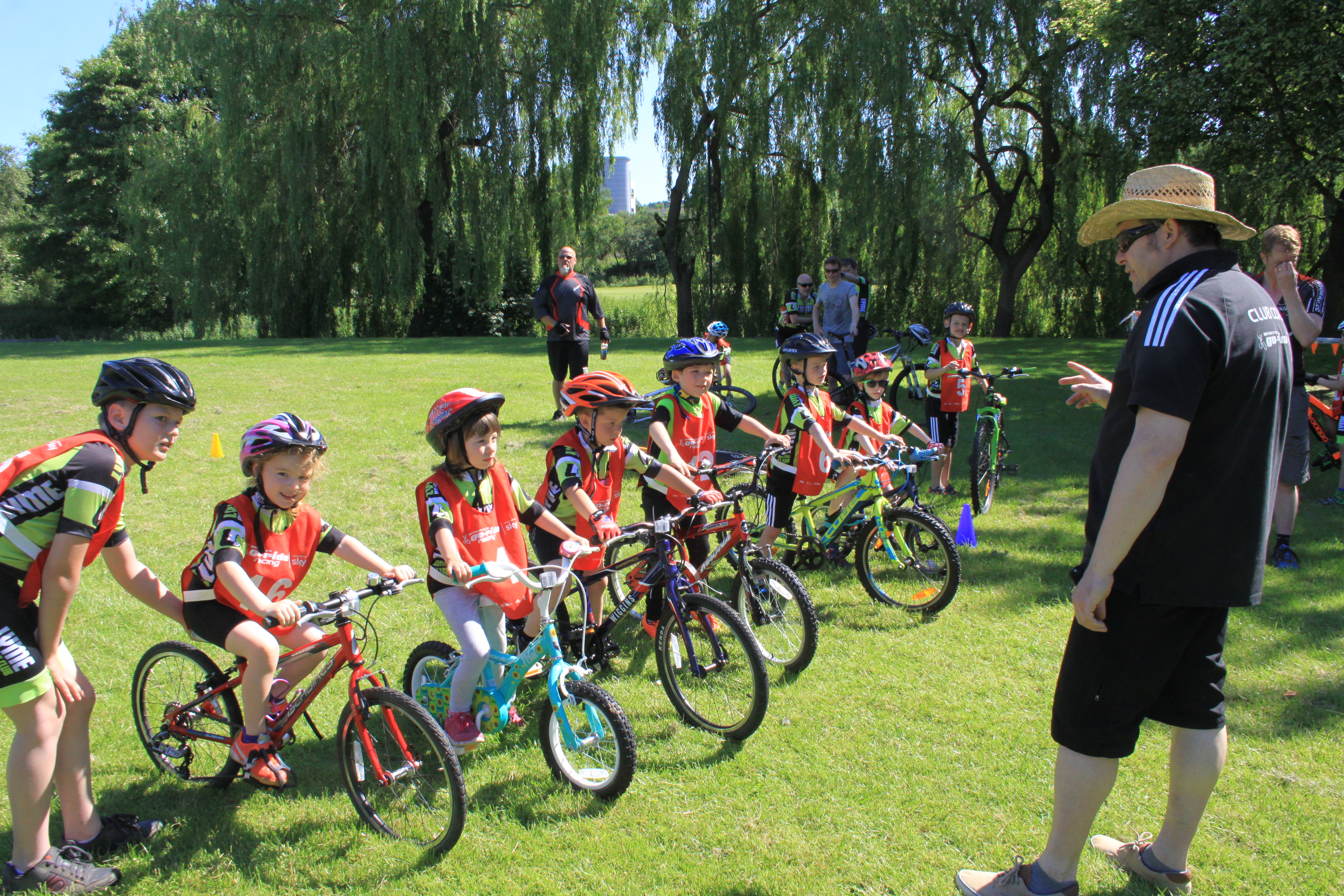 Image credited to: Sue Jones