Club History:
---
The Origins, Formation, Early Days (and more recent)
It could be said that the seeds that eventually produced the Lyme Racing Club, were sown way back in 1931 when a District Association of the Cyclists' Touring Club was formed here in the Potteries. Cycling then was the mode of transport of the majority for the population, only the better off owned motor vehicles. Subsequently the new club was an immediate success. We have in our records that sometimes club runs attracted over 50 riders. Thanks to a small band of enthusiasts the club even remained active during the bleak years of the Second World War.
However, the situation arose, often experienced in touring clubs, when some members decided to try their hands at racing. They were then tempted to move on to a club that boasted both a racing and a touring section. To combat this, in the late 1930's a Racing Section of our C.T.C. members was formed, namely the 'Mercury Aces'. For reasons that are lost in time, the 'Aces' only seemed to survive for a brief period before folding in 1938 with some of its members joining Burslem Olympic Wheelers.
In the late 1950's a second attempt was made. At the A.G.M. of the North Staffs C.T.C. held on Sunday 14th December 1958 approval was given for the formation of such a group. All that was needed was a name, enthusiasm and a number of willing officials. In a show of hands 'Lyme Racing Club' was favoured rather than 'Nova Castrian C.C.', and local Cycle Dealer Doris Swinnerton offered her valuable experience and services and became our first President. Just 15 members (of which a dozen were teenagers) paid their 7/6d (37.5p) to take advantage of our first year of competition. Lyme members took part in their first race on 15th March 1959 when five rode in the North Staffs National Cyclists' Union Medium Gear '25' on the difficult Madeley Course. With a field of 55 riders, the event winner was Jeff Rushton of Stone Wheelers in 1.06.16, our leading man was Dave Thornhill with 1.10.48. Later in the season Dave claimed our Fastest '25' Trophy recording 1.07.24.
Time trials were our main pursuit, just a few took part in the massed start game. However, since the late 1940's, a group of cycling enthusiasts had considered the possibility of building a local outdoor Velodrome and Lyme members willingly played their part in fund raising activities. And when the Track was finally completed, we fully supported the Weekly Track League. Perhaps one of our proudest moments was when Peter Humphries became the English Schoolboys National Sprint Champion.
For many years the club had been sponsored by 'George Longstaff Cycles'. George joined the Lyme as a 14 years old and later raced at all distanced up to 12 hour events, both on two and three wheels. He studied at college gaining Advanced Engineering qualifications, and then founded his cycle manufacturing business based at Chesterton near to Newcastle under Lyme.
From our small beginnings we can now safely say that the Lyme with over 300 members is currently the most successful club in the area. This season alone has seen a total of over 60 of our members in races, whether it be Time Trials, Road Races, Mountain Bike Events or on the Track. We are especially proud of the fact that up to twenty of these riders are in the Junior category or younger. Catering for the less competitive, we hold a range of Sunday Club Runs and Mountain Bike Rides tailored to suit riders of varied abilities. And we hold a weekly Friday Club Night where all are welcome to chat about their exploits over a cup of tea and cakes.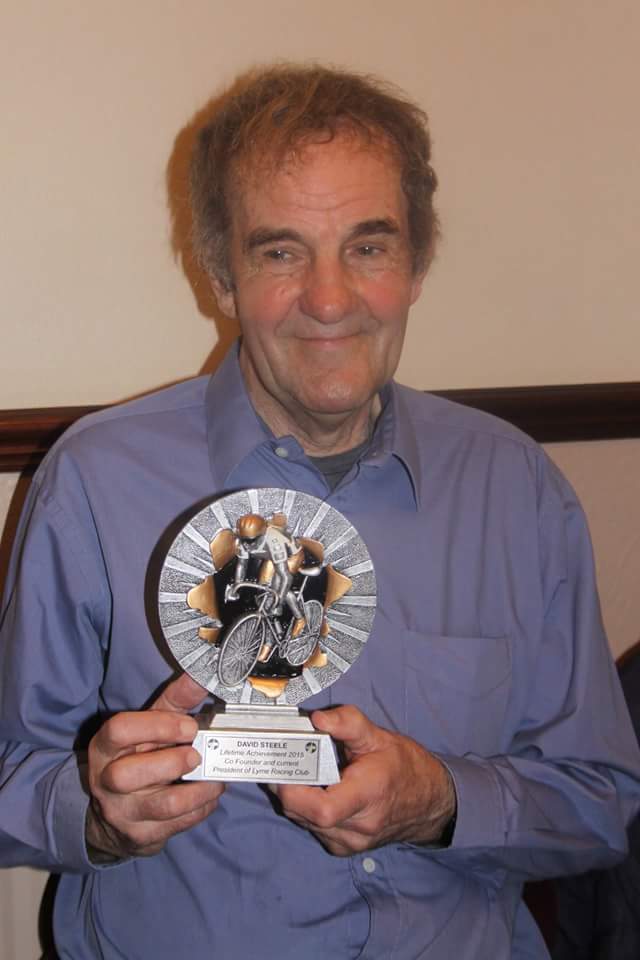 Dave Steele, Lyme Racing Club President